#1 VACUUM BAG SET WITH 12 BAGS IN 3 SIZES – FOR EVERY SITUATION: With our 4 small (40cm x 60cm), 4 medium (60cm x 80cm) and 4 large bags (70cm x 120cm) made of extra dense quality plastic, you can compress, protect and store all your clothes, bed linen and more in an ideal and space-saving way – whether at home, during a move or travelling.
SAVE UP TO 80% OF SPACE: Everything finally fits into your suitcase or closet, and any storage space can be used perfectly. Thanks to vacuuming, you can shrink your duvets, winter jackets, and the like to 80% of their original size in no time at all; by opening the valve, they unfold back to their standard size.
100% AIR DENSITY & DOUBLE SEALING FOR HIGHEST QUALITY – Thanks to our particularly durable premium plastic, safety valve, and double-sealed cap, our bags are 100% leakproof and reliably protect your textiles from water, dirt, mold, and bacteria – guaranteed!
EASY USE FOR PERFECT PROTECTION OF YOUR TEXTILES – Our vacuum bags are easy to use: Simply attach your vacuum cleaner to the valve and withdraw the air from the bag. Your storage bag is vacuumed and sealed airtight. An easy-to-understand operating manual with pictures is included.
PREMIUM 24/7 SUPPORT: WE ARE ALWAYS HERE FOR YOU – Find out for yourself and order your Urban Nomad 20 pcs vacuum bag set today. If you are not satisfied, simply contact us by email support@pl-concepts.com – we always find a satisfactory solution!
urban nomad
Vienna | Berlin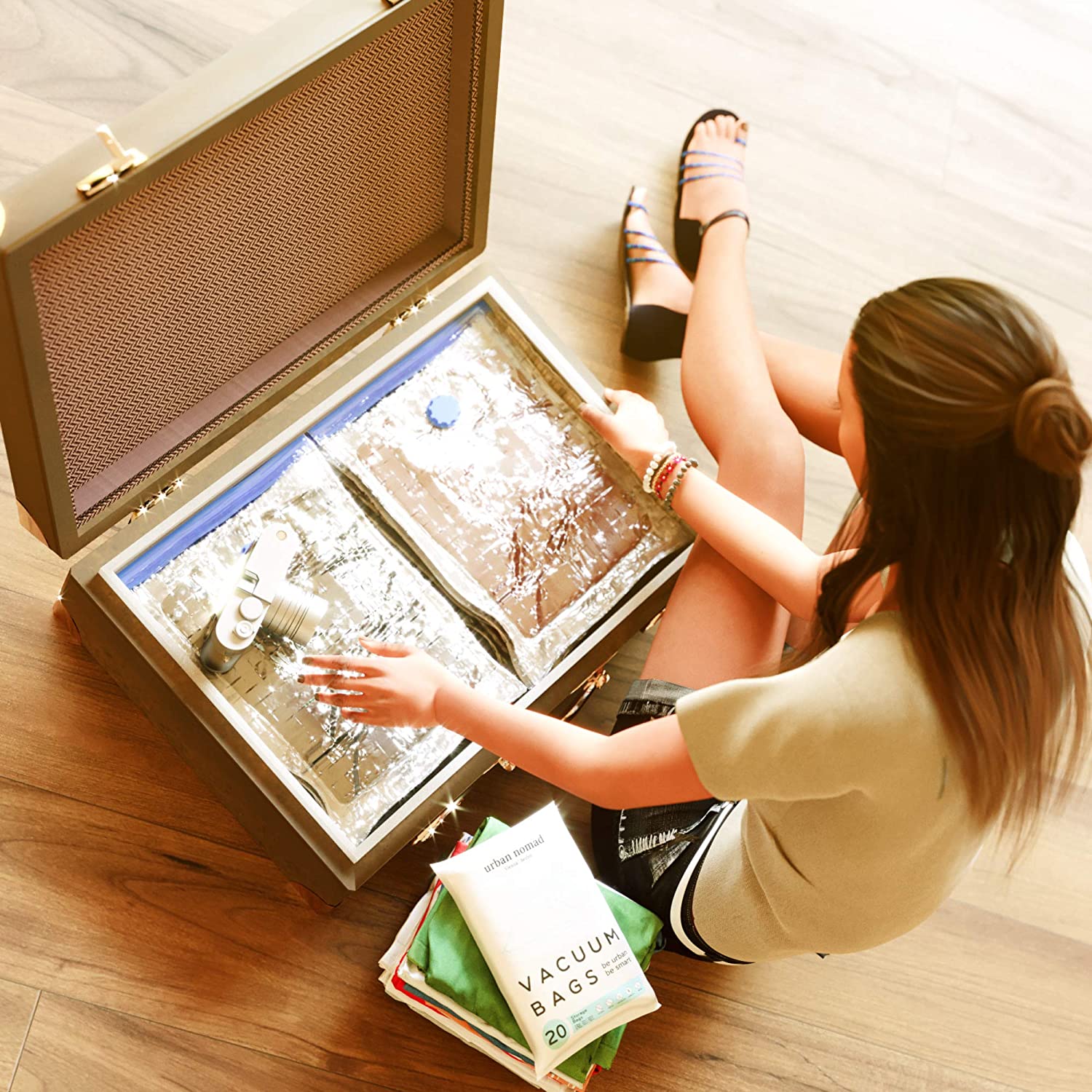 The Urban Nomad vacuum bags – save up to 80% space
The Urban Nomad vacuum bag set combines the advantages of innovative functionality, easy handling, and uncompromising quality.
vacuum bags in 3 sizes

80% more space in suitcase & closet

100% airtight, hygienically sealed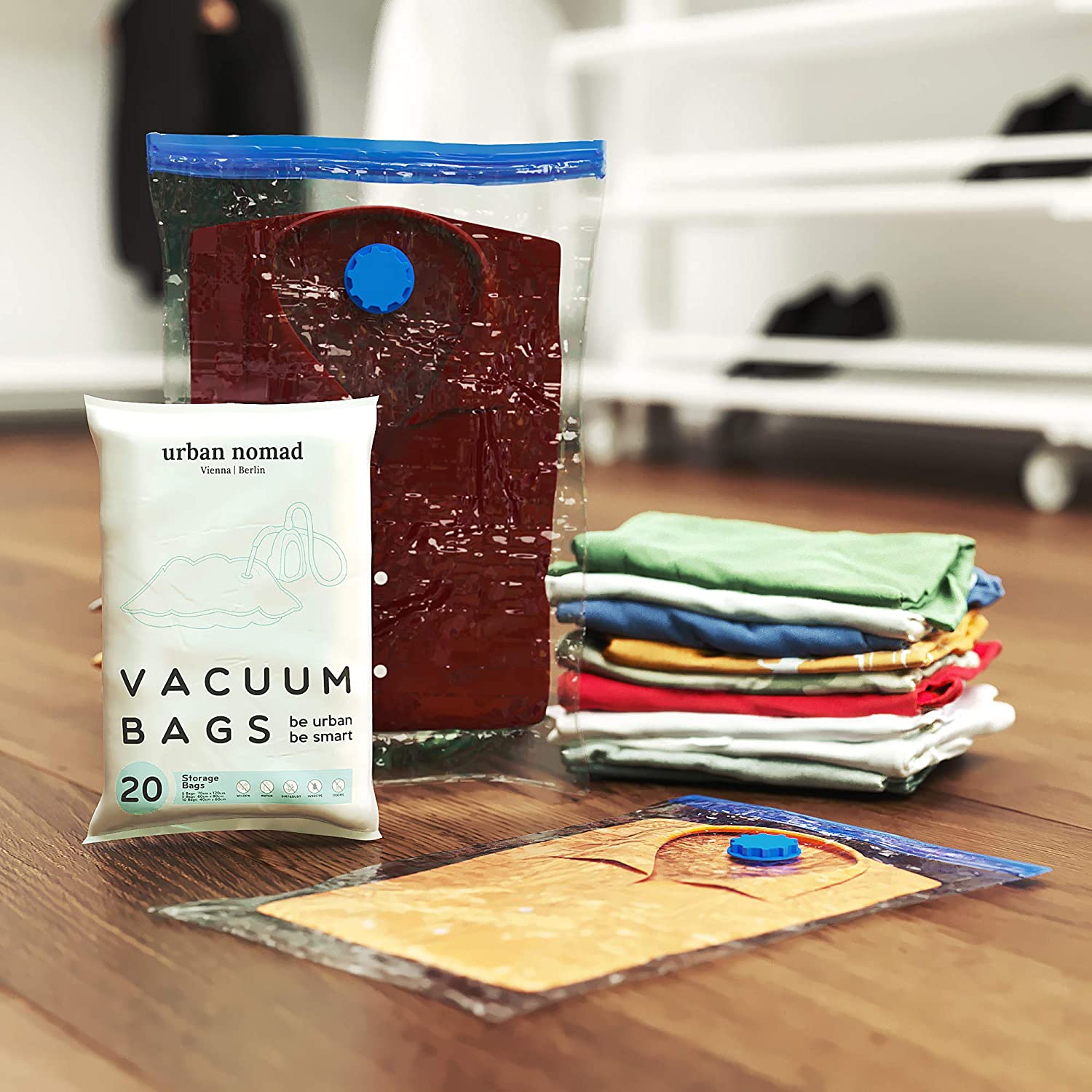 Add more to your suitcase – Save 80% space while traveling & at home – More space in your closet
The use of vacuum shrinks your textiles together, and your sweaters, pillows, and more will unfold back to their standard size by opening the valve – completely undamaged.
Bring all your favorite clothes with you on holiday. PERFECT TO TRAVEL WITH thanks to its simple use.
Bed linen, summer & winter clothing are vacuum-sealed in our bags, significantly reducing the volume. Ideally stowed away, you create new space in your wardrobe.
Clothing remains clean & protected – 100% airtight and leakproof
Thanks to the particularly durable premium plastic and sealed safety valve, your textiles are 100%.
PROTECTED from moisture, dirt, odors, and vermin!
Our vacuum bags ensure that your textiles look like new even after years in storage.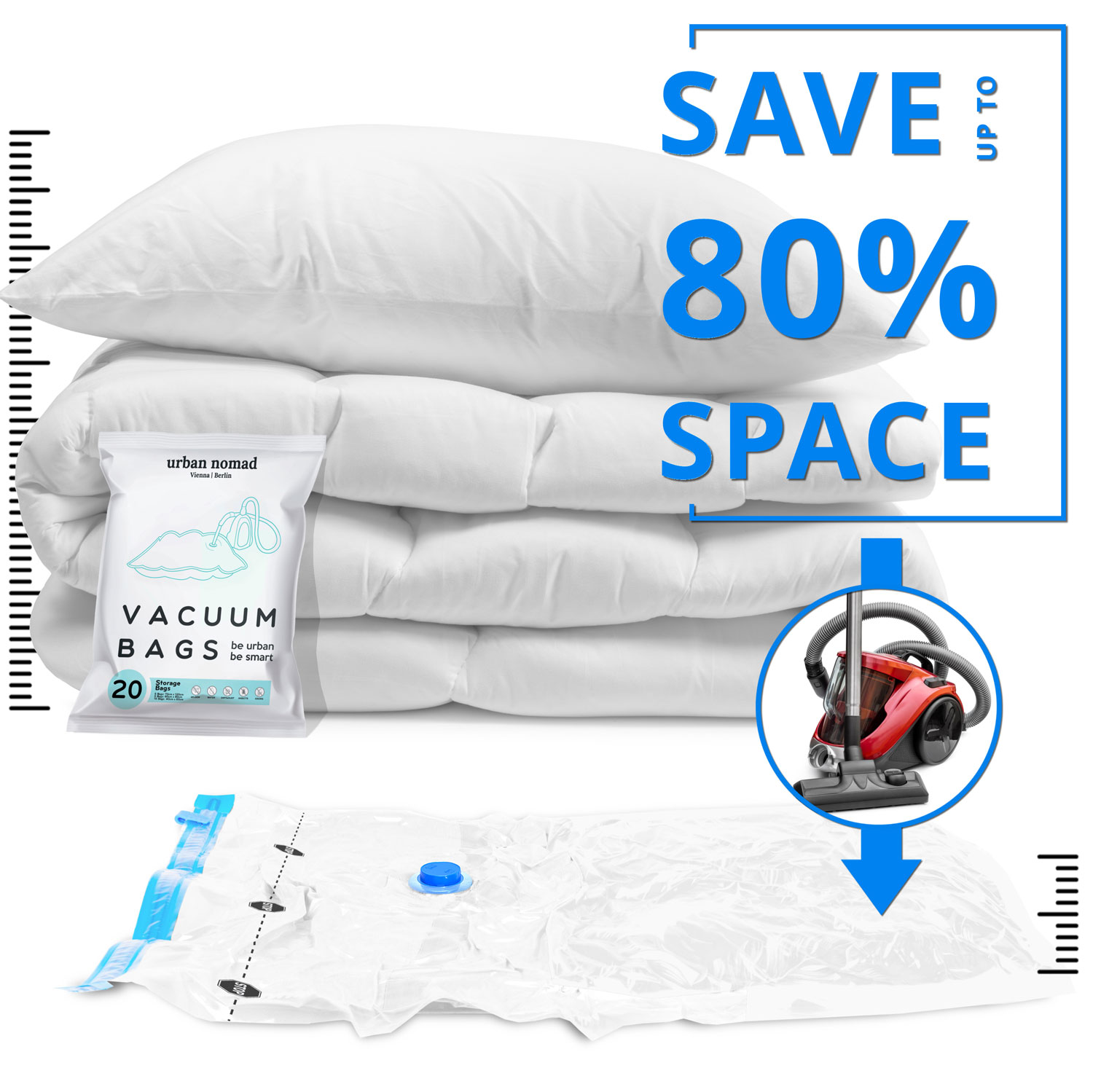 Easy & fast to use
Due to easy handling and use with standard vacuum cleaners (our recommendation!), air pumps, hand pumps, or by merely rolling by hand, our vacuum bags will never let you down, no matter if at home or when traveling!
The vacuum bag set at a glance:
large: 70 x 120 cm, ideal for storing large duvets, pillows, curtains, coats, and bulky ski clothing.
medium: 60 x 80 cm, ideal for seasonal storage of clothes, towels and bed linen, pillows, and for moving.
small: 40 x 60 cm, ideal for compressing your clothes while traveling
All advantages at a glance
vacuum bags for clothes, in 3 sizes.
Save 80% space when traveling, moving or at home.
Suitable for clothing, bed linen, and more.
Very easy to use, includes instructions.
Vacuum sealing with a vacuum cleaner, air pump, or simply by hand rolling.
100% airtight, hygienically sealed.
High-grade premium quality: Durable, waterproof, and safe.